Bissell BG10 Upright Deep Cleaner
Bissell BG10 Upright Deep Cleaner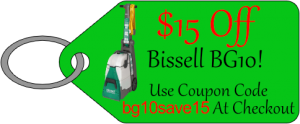 Description
Bissell BG10 Upright Deep Cleaner 
Commercial Cleaner
Two-tank System – Why choose our carpet deep cleaners? BISSELL BigGreen Commercial carpet deep cleaners have been tested and designed to clean better, dry faster and make cleaning more efficient. BISSELL BigGreen Commercial offers the best deep carpet cleaner on the market when compared with leading rental carpet cleaner.
Bissell BG10 Upright Commercial Deep Cleaner Vacuum.
Weighs approximately 42 lbs.
Flow indicator monitors water and solution levels
Removable clean and dirty water tanks
Contains two motors; one for suction power and one for brush roll.
12 Amps.
25-foot cord
10.5 inch cleaning path
1.75 gallon tank.
Based upon measurements of brightness and color reflectance of carpet fibers, the Bissell BG10 Upright Commercial Deep Cleaner Vacuum demonstrates comparable results to the leading carpet cleaning machine.
Follow Us on Facebook!
Questions? Need Help? Contact Us!